"Commemorative Photo" (Japanese: 記念撮影, Kinen Satsuei) is an extra chapter in Volume 33. It was published on August 3rd, 2018.
Overview
Edit
Team Inarizaki takes a commemorative photo with their banner as backdrop.
By captain Kita's request, the regulars of Inarizaki prepares to take a team commemorative photos. The Miya twins think this is all a prank especially since they are all wearing their uniforms and using their banner as the backdrop. The rest of the team have similar thoughts but agree to do it anyways.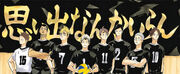 First year Riseki takes the photo for the team. Afterwards, the members crowd around Riseki to look at the photo only to find people being distracted and looking off-camera in random directions. Osamu explains that he smells curry from the outside and decides to look toward it, while Akagi says he heard a teacher calling for him the moment the photo is taken. Aran then suggests taking another photo with the whole team this time, much to Atsumu's displeasure. Riseki approaches Kita and asks if he should retake the photo. Kita denies the offer, saying that's just how his teammates are.
Appearances
Edit
Chapter notes
Edit
Character revelations
Edit
Kita is the one to ask the team for a commemorative photo. 
Inarizaki's team photo is revealed on the back cover of Volume 33.
Community content is available under
CC-BY-SA
unless otherwise noted.