"Couples" (Japanese: カップルたち, Kappuru-tachi) is an extra chapter in Volume 37 . The book was published on April 4, 2019.
Overview
Edit
After outright provoking Nekoma for their loss to Karasuno, Daishō is worried about Mika seeing his ugly side. However, Mika reassures him that she likes him the way he is.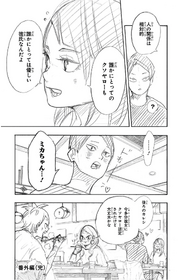 Daishō and Mika are eating lunch together on day 3 of the Spring Interhigh tournament. Having just confronted Nekoma and mocked them for their loss, Daishō is stressed that Mika has seen him at his worst. Mika notices her boyfriend is deep in thoughts and cheerily reveals that she has known about his prickly personality for a long time. She remarks that even though Daishō might be a jerk to others, he is a gentle boyfriend in her eyes. Daishō is touched by Mika's kind words. Meanwhile, a couple nearby has overheard the conversation and comments among themselves that Mika just confirmed that her boyfriend has a terrible personality.
Appearances
Edit
Chapter notes
Edit
Character revelations
Edit
Community content is available under
CC-BY-SA
unless otherwise noted.