Haikyū!! (Japanese: ハイキュー!!, Haikyū!!) is a shōnen sports anime series based on the manga by Haruichi Furudate, and produced is by Production I.G and Toho in conjunction with Japanese television network MBS. The anime consits of four seasons, four movies, and five OVAs. In the United States, Sentai Filmworks has licenced the anime, and has dubbed seasons one to three in English.
Seasons
Main article: Episode Guide
Season 1
Haikyū!! season one was announced in September 2013[1], and the first episode aired on April 6, 2014 on MBS and other JNN affiliated stations. The season consists of 25 episodes, and concluded on September 21, 2014.
Season 2
Haikyū!! season two was announced in December 2014[2], and its 25 episodes were aired between October 4, 2015 and March 26, 2016.
Season 3
Haikyū!! Karasuno High School vs Shiratorizawa Academy (ハイキュー!! 烏野高校 VS 白鳥沢学園高校), the third season of Haikyū!!, was anounced in March 2016[3]. This season was shorter, consisting of only 10 episodes, and aired between October 7, 2016 and December 9, 2016.
Season 4
Haikyū!! To The Top (ハイキュー!! TO THE TOP), the fourth season of Haikyū!!, was announced in September 2019[4]. The season is split into two cours, with the first cours of 13 episodes being aired between January 10, 2020 and April 3, 2020. The second cours was due to begin airing in July 2020, but due to the COVID-19 pandemic[5] it was postponed. The second cour aired from October 2, 2020[6] to December 18, 2020.
Extras
Several movies and OVAs have been created:
Movies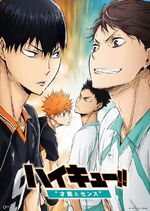 OVA
Other
The Haikyū!! anime has also been released on Home Video.
Plot
Shōyō Hinata, upon seeing a volleyball match, aims to become the next "Little Giant" and thus, joins his junior high volleyball club. After finding new members, they set out for the junior high school tournament, where they cross paths with a formidable school with the "King of the Upper Court", Tobio Kageyama. Although his team lost, Shōyō is still determined to aim for the top and exact revenge on Kageyama. Upon entering high school, he receives the biggest surprise; he and Kageyama are in the same high school volleyball club!
Main characters
English dub

On March 27, 2014, Sentai Filmworks announced it had acquired the rights to the first season of Haikyū!! in North America[7]. This was followed by their announcements of their acquisition of season two on October 8, 2015[8], and season 3 on October 7, 2016[9].
On July 1, 2017, at Anime Expo 2017, Sentai announced that they would be dubbing Haikyū!! into English[10] and announced their cast list for season one on July 6, 2017[11]. The season was released on DVD and Blu-ray on November 14, 2017.
The cast list for season two of the dub was published on March 19, 2018, and was released on DVD and Blu-ray on April 17, 2018[12]. The cast list for season three was published on September 23, 2019[13], and was released on DVD and Blu-ray on November 26, 2019.
On December 14, 2021, Sentai announced the release of season four on Blu-ray on March 29, 2022, and revealed it would include an English dub of each episode in the season[14].
External links
References