Haikyū!! (Japanese: ハイキュー!!, Haikyū!!) is a shōnen sports manga series written and drawn by Haruichi Furudate. It was originally a one-shot in Weekly Shōnen Jump-Next! magazine by Shueisha Inc. The first chapter was released in Weekly Shōnen Jump on February 20, 2012 and is published by the same company. The series is currently ongoing with 35 volumes. Currently, an anime adaptation, 3DS games, and a spinoff manga have been made. The second season of the anime series[1] and a stage play[2] have premiered in the fall of 2015.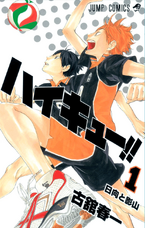 Viz Media announced during its 2015 New York Comic Con panel that it will be adding Haikyū!! to its series in the 2016 summer[3], but there has been no word of the format of the release yet.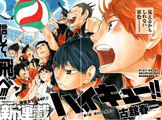 The story follows the protagonist Shōyō Hinata, who becomes inspired to play volleyball after seeing a match on T.V. featuring the Small Giant, a figure whom becomes Hinata's role model and motivation. For months, he's the only member of his junior high's volleyball club until three new students joined. Hinata then convinces his friends to join him so he can play in an official volleyball match. There, they play against Tobio Kageyama, a very skillful but arrogant volleyball player often referred to as the "King of the Court." After pitifully losing to Kageyama in his first and last volleyball match as a junior high student, Hinata confronts him and promises to defeat him in the future. After graduating, Hinata chooses Karasuno High School, hoping to join the same volleyball team that the Small Giant had been on, but ends up finding the "King" there as well.
Spin-offs and Adaptations
Edit
Reception and Reviews
Edit
After the anime adaption of Haikyū!! that aired in the Spring of 2014, the manga's popularity jumped and was met with overwhelmingly positive comments, most of them from females, though the target demographic is for males. Since then, the manga's popularity has only continued to increase. Over twelve million volumes of Haikyū!! have been sold since December 2014, and merchandise, fanbooks, and doujinshis of the series are widely sought after in conventions located in both Japan and America.
Haikyū!! was the 22nd top selling manga of 2013 in Japan, having sold 2,056,211 copies.[5] It became the 3rd best selling manga in Japan in 2014, having sold 8,283,709 copies.[6] In 2015, it became the 6th top selling manga, having sold 6,531,508 copies.[7] It was the 5th top selling manga of 2016 having sold 6,474,394 copies.[8] In 2017, the series was the 6th top selling manga, having sold 5,067,939 copies.[9] It rose to the 5th top selling manga in 2018, having sold 5,030,624 copies.[10]
The title of the series comes from the word "排球", which is the more obscure name for volleyball in Japanese.
Reference
Edit
Community content is available under
CC-BY-SA
unless otherwise noted.