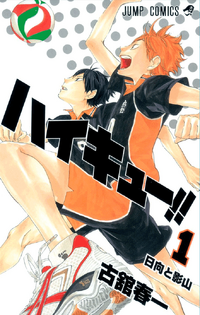 Haikyū!! (Japanese: ハイキュー!!, Haikyū!!) is a shōnen sports manga series written and drawn by Haruichi Furudate. It began as a one-shot in Jump NEXT! magazine on January 8, 2011[1], followed by a second in Weekly Shōnen Jump magazine on April 25, 2011[2]. From February 20, 2012[3] until July 20, 2020[4], the manga was serialized in Weekly Shōnen Jump magazine, and was re-published as a series of tankōbon volumes. Viz Media began publishing the series in English on July 5, 2016[5].
Haikyū!! has been adapted into an anime series by Production I.G, as well as a series of stage plays, video games, light novels, a trading card game and more.
Name
The name ハイキュー (haikyū) is derived from the kanji 排球, an obscure word for volleyball, that literally means "ball throw". The most commonly used name for volleyball in Japanese is バレーボール (barēbōru).
Plot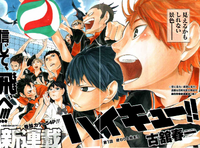 Main article: Timeline
Ever since he watched the legendary player known as "the Little Giant" compete at the high school national volleyball finals, Shōyō Hinata has wanted to be the best volleyball player ever! He decides to join the volleyball club at his middle school, but he must wait until his third year to play in an official tournament. His team is crushed by volleyball prodigy Tobio Kageyama, also known as "the King of the Court", in straight sets. Swearing revenge on Kageyama, Hinata graduates middle school and joins Karasuno High School, the school where the Little Giant played. However, upon joining the volleyball club, he finds out that Kageyama is there as well!
Chapters and volumes
Main article: Haikyū!! Volumes
Publication
Japanese
Haikyū!! was serialized in Shueisha's magazine Weekly Shōnen Jump, with a new chapter released each week (with occasional breaks), beginning with chapter one in issue #21–22 2012 on February 20, 2012[3] and ending with chapter 402 in issue #33–34 2020 on July 20, 2020[4]. Chapters were then republished in tankōbon volumes, beginning with Hinata and Kageyama on June 4, 2012[6].
English
At New York Comic Con 2015, Viz Media announced that they would be licencing Haikyū!! for release in English[7], and the first volume was released on July 5, 2016[5]. Individual chapters are also available on the Viz Media website, via its Shonen Jump membership programme[8].
The latest three chapters are also available in English on Shueisha's Manga Plus platform[9].
International releases

The Haikyū!! manga volumes have been released around the world in many different languages, and sometimes under different names:
Televisa's Smash Manga acquired the rights to publish Haikyū!! in Spanish in Latin America, but then ceased operations in June 2019, before any volumes were published[21]. On February 6, 2021 Brazilian publisher Editora JBC announced it would be publishing Haikyū!! in Portuguese[22]. On March 16, 2021, Editorial Ivrea announced it would be publishing Haikyū!! in Argentina[23]. On June 28, 2021, Planeta Cómic announced it would be publishing the series in Spain[24].
Reception
After the anime adaption of Haikyū!! that aired in the Spring of 2014, the manga's popularity jumped and was met with overwhelmingly positive comments, most of them from females, though the target demographic is for males. Since then, the manga's popularity has only continued to increase. Over twelve million volumes of Haikyū!! have been sold since December 2014, and merchandise, fanbooks, and doujinshis of the series are widely sought after in conventions located in both Japan and America[citation needed].
Haikyū!! was the 22nd top selling manga of 2013 in Japan, having sold 2,056,211 copies[25]. It became the 3rd best-selling manga in Japan in 2014, having sold 8,283,709 copies[26]. In 2015, it became the 6th top selling manga, having sold 6,531,508 copies[27]. It was the 5th top selling manga of 2016 having sold 6,474,394 copies[28]. In 2017, the series was the 6th top selling manga, having sold 5,067,939 copies[29]. It rose to the 5th top selling manga in 2018, having sold 5,030,624 copies[30]. In 2019, it fell to 8th place, having sold 4,514,838 copies[31].
Awards
Spin-offs and adaptations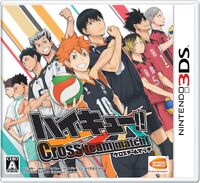 Gallery
International covers
Trailer
References