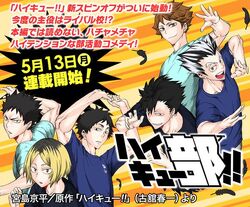 Haikyū-bu!! (Japanese: ハイキュー部!!, Haikyū-bu!! English: Haikyū Club!!) is a spin-off manga series based on Haikyū!!. It is written and illustrated by Kyōhei Miyajima. The series is currently on-going and serialized on Shōnen Jump+. The first chapter was released on May 13, 2019.
The series is a high-tension club activities comedy that focuses on the rival schools, including Aoba Johsai, Shiratorizawa, Nekoma, Fukurōdani, and more.
Plot
Every chapter focuses on a different rival school, their interactions outside of a match and other characters.
Volumes
New chapters are released every other Monday on Shōnen Jump+.
External links