Hyper Projection Play "Haikyū!!" The Summer of Evolution (Japanese: ハイパープロジェクション演劇「ハイキュー!!」"進化の夏", Haipā Purojekushon Engeki "Haikyū!!" "Shinka no Natsu") is the fourth stage play adaption of Haruichi Furudate's Haikyū!! series. The play combines manga, live-play, and video to continue to challenge the "top" of theater and achieve further evolution.
The stage play covered the aftermath of Karasuno's loss to Aoba Johsai and their subsequent training camp in Tokyo.
2017 Performance Schedule
The play opened on September 8 and ran until October 29. It was performed in five cities across 37 performances:
Tokyo at Tokyo Dome City Hall (Sep. 8 - 10)
Osaka at Osaka Mielparque Hall (Sep. 15 - 18)
Hyogo at Amashin Archaic Hall (Sep. 22 - 24)
Miyagi at Tagajō City Cultural Center's Great Hall (Sep. 29 - Oct. 1)
Fukuoka at Kurume City Plaza The Grand Hall (Oct. 14 - 15)
Tokyo at Tokyo Dome City Hall (Oct. 20 - 29)
Home Video
The official DVD and Blu-ray were released on March 14, 2018. Its bonus features included footage of the last performance's curtain call, backstage footage, and a full stage view.
Original Soundtrack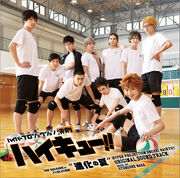 Gallery
CMs
Cast
Most of Karasuno's Winners and Losers cast returned; though the roles of Kageyama and Nishinoya were recast, and Hitoka Yachi and Kiyoko Shimizu were added to the cast. The Revival Nekoma cast also reprised their roles, though Inuoka did not appear, while Lev Haiba was added to the cast. Other new characters to the play include the members of the Fukurodani volleyball team, Saeko Tanaka, and Akiteru Tsukishima.
Staff
External Links