Hyper Projection Play "Haikyū!!" The Tokyo Match (Japanese: ハイパープロジェクション演劇}えんげき「ハイキュー!!」"東京の陣", Haipā Purojekushon Engeki "Haikyū!!" "Tōkyō no Jin") is the seventh stage play adaption of Haruichi Furudate's Haikyū!! series. The play combines manga, live-play, and video to continue to challenge the "top" of theater and achieve further evolution.
This stage play ran during spring of 2019 and focused on Nekoma as the main team as they face off against Fukurōdani Academy and Nohebi Academy in the Tokyo qualifiers for the Spring Interhigh.
2019 Performance Schedule
The play opened on April 5 and ran until May 6 with 30 performances. It differed from the previous installments in that it only lasted a month and was performed in three cities instead of the usual five.
Osaka at Umeda Arts Theater's Drama City Theater (Apr. 4 - 14)
Miyagi at Tagajō City Cultural Center's Great Hall (Apr. 20 - 21)
Tokyo at Tokyo Dome City Hall (Apr. 27 - May 6)
Home Video
The official DVD and Blu-ray were released on October 16, 2019. Its bonus features included footage of the last performance's curtain call, backstage footage, and a full stage view.
Original Soundtrack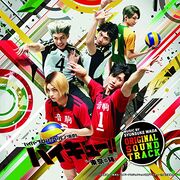 約束
The Battle of Tokyo"東京の陣"
東京蛇行
Dancing Cats
HEY!HEY!HEEEEEEEEY!!
壱の陣-音駒高校VS梟谷学園高校-
パーティはこれからだ
護りのエース
血液の使者
合戦
Acid Nekoma
反撃の狼煙
ONE DAY…
彼が望む景色
パーティはおしまいだ
エースの心得
約束-やめんなよ-
兵どもが夢の跡
弐の陣-音駒高校VS戸美学園高校-
Hysterhythm
蝶のように舞い蛇のように捲く
JYABARA
全国制覇
The Brain
蛇に睨まれた虎
Don't stop
敗北者たちよ
衝突
繋げ
約束-日本一-
Gallery
CMs
Cast
Most of the Nekoma cast from The Summer of Evolution returned, along with new casts for Shōhei Fukunaga, Yūki Shibayama, Akane Yamamoto, and Alisa Haiba. The majority of Fukurōdani also returned with the exception of Higashi Takumi reprising his role as Akinori Konoha and new casts for Kōtarō Bokuto and Haruki Komi. Lastly, brand new casts for Nohebi joined the production.
Staff
External Links