Hyper Projection Play "Haikyū!!" Winners and Losers (Japanese: ハイパープロジェクション演劇「ハイキュー!!」"勝者と敗者", Haipā Purojekushon Engeki "Haikyū!!" "Shōsha to Haisha") is the third stage play adaption of Haruichi Furudate's Haikyū!! series. The play combines manga, live-play, and video to continue to challenge the "top" of theater and achieve further evolution.
The stage play covered the Interhigh match between Karasuno and Aoba Johsai.
2017 Performance Schedule
The play ran from March 24 to May 7, 2017. It was performed in four cities across 36 performances:
Tokyo at Tokyo Dome City Hall (Mar. 24 - 26)
Miyagi at Tagajō City Cultural Center's Great Hall (Mar. 31 - Apr. 2)
Osaka at Umeda Arts Theater's Main Hall (Apr. 13 - 16)
Fukuoka at Canal City Theater (Apr. 21 - 23)
Tokyo at Tokyo Dome City Hall (Apr. 28 - May 7)
Home Video
The official DVD and Blu-ray were released on September 13, 2017. Its bonus features included footage of the last performance's curtain call, backstage footage, and a full stage view.
Original Soundtrack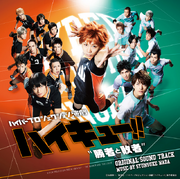 Gallery
CM
Cast
All of Karasuno's Revival! cast and Aoba Johsai's second run cast reprised their roles. Takato Nagata (Kenma Kozume) and Shōri Kondō (Tetsurō Kuroo) also returned.
Staff
External Links