Jingo Fukiage (Japanese: 吹上 仁悟, Fukiage Jingo) is a first-year student attending Date Tech High and plays as a middle blocker on the boys' volleyball team after the third-years retired.
Appearance
He is tall, standing just a little over six feet, and has a long face and thin eyebrows with short, dark hair. During games, he wears a white jersey with the number 11 and green shorts. Outside of matches, he can be see wearing the Date Tech track suit of a grey jacket and green pants.
Personality
Not much is known about Fukiage's personality, but he seems be a quiet and respectful individual.
Background
Plot
Spring High Preliminary Arc
Fukiage plays as one of Date Tech's starting middle blockers against Aoba Johsai, replacing Kamasaki as the third-years had retired from the team. When Moniwa discusses the team's potential and how they could continue to improve themselves, Fukiage is shown listening attentively.
Tokyo Nationals Arc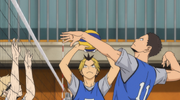 After Karasuno arrives to the Date Tech campus, Fukiage and the rest of his team bow in greeting. Shortly following the match's commencement, Tsukishima blocks Fukiage, which irritates Futakuchi. Not long after, Koganegawa tricks Tsukishima when using Fukiage as a decoy, leading him to think that they were going to use a quick attack. Fukiage has few appearances in the second set, including when he sets up a triple block with two other teammates to stuff an incoming cross shot from Tanaka.
Statistics
High School Statistics
Power

 

3/5
Jumping

 

2/5
Stamina

 

3/5
Game Sense

 

4/5
Technique

 

2/5
Speed

 

2/5
Due to his height, he became a skilled blocker[1].
Jumping Reach: 325 cm
Relationships
Trivia
Nomenclature:
He has the same dub voice actor as Yutaka Obara and Morisuke Yaku.

Jingo (仁悟) - Benevolence/Compassion, Perceive/Understand
Fukiage (吹上) - Blow (wind), Raise
Quotes
References