Johzenji High (Japanese: 条善寺高校, Jōzenji Kōkō) is a high school located in the Miyagi Prefecture.
Johzenji, like most Japanese schools, has a uniform and dress code. The male uniform consists of a olive-colored jacket, white collared shirt, blue tie, and black pants.
The boys' volleyball club's uniform consists of a yellow tracksuit with white details. During official matches, the majority of players don a yellow jersey and shorts with white details. The libero has a contrasting jersey in white with black and yellow details. He wears yellow shorts with black details.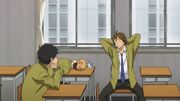 Volleyball Club
Edit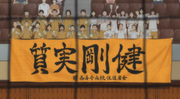 The Boys' Volleyball Club banner reads "Simplicity and Fortitude" in accordance with the team's former playing style. Terushima has said that Johzenji defeated Shiratorizawa once in the past. In recent years, however, the team became average, having decent defensive ability but lacking offensively.
One year prior to the series' current time period, Johzenji's dynamic completely changed under new leadership and with the addition of the current 2nd years. With the intent of "rebuilding the team from the ground up", the new coach Anabara had its members practice through two-on-two matches against one another. During the next year's Interhigh Preliminaries, not only did the team consist of five 2nd years and two 3rd years, but they made it into the top 4.
It is often referred to as the "party team" by other opponents due to the players' easy-going attitude and lack of formation. Karasuno has noted that Johzenji is unorthodox and unpredictable. The players often set up attacks from the back line, save shots with their legs, randomly change positions, or even attempt to copy their opponents' tactics. Johzenji is very adaptable and the players are usually able to keep the rhythm up throughout the match, making them quite formidable opponents.
Former Members
Interhigh-Preliminaries
Edit
For Interhigh's Miyagi Preliminaries, Johzenji played at the Sendai City Gymnasium over the span of two days. They lost to Aobajohsai High in the semifinals, and placed within the top 4 overall.
Semifinal
Johzenji High vs Aobajohsai High School (0:2 / 20:25, 23:25)
Spring High-Miyagi Prefecture Representative Playoffs
Edit
Johzenji was exempt from the first preliminary after placing within the top four during Interhigh.
For the representative playoffs, Johzenji was registered as team 9 and played at the Sendai City Gymnasium. Because they lost in the first round to Karasuno, they only played one match on the first day.
Johzenji also has a basketball team.
The banner was created by the Johzenji Parents' Association.
The boys volleyball club's 3rd years retired after Interhigh.
According to Interhigh's tournament brackets, Johzenji was registered as team 23, Block J. After taking Block J, they faced Aobajōsai and lost. Overall, they placed within the top four.[1]
Johzenji high school's name comes from the Jozenji Temple located in Aoba Ward, Sendai City, Miyagi Prefecture.
References
Edit
Community content is available under
CC-BY-SA
unless otherwise noted.