This is a list of minor characters that appear in Haikyū!!. The characters are listed under the schools or organizations they're affiliated with.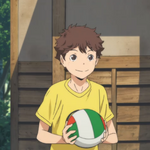 Yū Ogasawara
He is one of Ikkei Ukai's students at his volleyball school. He quickly becomes friends with Hinata when the teenager joins the school. After the Spring High begins, Yū often accompanies his teacher and several other students to Karasuno's games and cheers on Hinata while chatting with Yachi.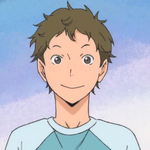 Hiroki Ogasawara
A middle school student and the older brother of Yū. He is one of Ikkei Ukai's students at the Lil'Tykes Volleyball Classroom and plays as a setter.
Taku Sugano, Rintarou Hoshi & Riku Ogata
Taku Sugano, Rintarou Hoshi and Riku Ogata are the other grade-schoolers that, like Yū and Hiroki, are Ikkei's students.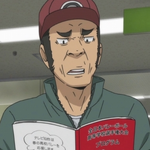 Shizuyasu Yokoyama
He appears to be a long time and avid fan of Karasuno's Boys' Volleyball team. It is said that he will cheer for the plays he think are good, and boo the bad ones. The current Karasuno third years remember him coming to watch their games during their first year and calling the team fallen crows. Yokoyama is seen cheering for Karasuno ever since the Shiratorizawa match.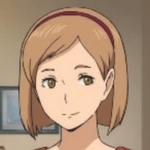 Tsukishima's mother
She appears very caring and supportive of her sons; even making custom bento lunches for Akiteru for volleyball practices.
Tokita
An alumni of the volleyball club, Tokita's debut and only appearance comes when he meets with Narita and Kinoshita just before the match against Schweiden Adlers and the MSBY Black Jackals. His excitement for the match is clear as Yaotome states that he and the others would not miss the chance to watch Hinata and Kageyama play against each other.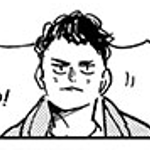 Shoji
Presumably part of the next group of volleyball players that joined the team after the events of the Spring Tournament. He accompanies Tokita and Yaotome to the match between the MSBY Black Jackals and Schweiden Adlers and meets with Narita and Kinoshita.
Yaotome
Yaotome joins Tokita and Shoji in attending the match between the Schweiden Adlers and MSBY Black Jackals. The three meet with Narita and Kinoshita just before the match starts. Although his position in the club is never made clear, it is possible Yaotome was the libero as he is seen in one of Hinata's flashbacks wearing the libero jersey[1].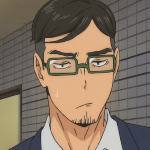 Madoka's co-worker
Madoka Yachi's co-worker whose name is never revealed. He appears to be a close co-worker of Madoka as he at times arrives to her house to walk with her to work. From this, he is able to see how Madoka tries to get her daughter to be a stronger person but finds that Hitoka may actually get her timid nature from her mother's criticism.
Hinata's mother
The mother of Shōyō and Natsu Hinata. She appears to be a young looking woman with short black hair she keeps in a bob style. While not much is known about her, Hinata's mother appears to be a caring and supportive mother. She is well aware of her son's love of volleyball and the things he does in order to keep playing; such as putting in extra study time to pass exams and the practices he does at home. Although she has made very few appearances in the manga, she is never seen in the anime.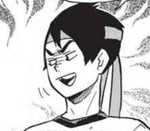 Yoshida
Yoshida is a third-year student at Karasuno High and member of the soccer team. He has short black hair and long, black eyebrows. His only appearance in the series is when Karasuno is having their annual sports festival. He appears next to Sugawara to brag about how his teams second-years will give the members of the volleyball team a hard time but was soon proven wrong when he and everyone else witnessed Hinata and Kageyama begin racing each other instead of the other racers.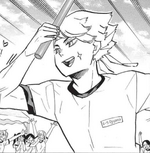 Hideo Oujiyama
Oujiyama is a second-year student at Karasuno High and the ace player of the tennis club. Oujiyama is shown to be quite attractive and is very popular among the female students. During the school's annual sports festival, his team had a slight lead in the relay race. He took advantage of this to be admired by the many girls cheering him on but this allowed Tanaka to quickly close the gap and take the lead.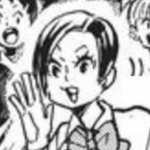 Fumi-chan
A member of the Nekoma Girls' volleyball team who attends the match between Nekoma and Karasuno. She helps explain Kenma's reach over tactic to fellow students who were unsure of what occurred during the play.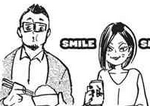 Kenma Kozume's parents
The unnamed mother and father of Kenma Kozume. Since Kenma's childhood, both have acknowledged that their son is highly interested in video games. Despite this, Kuroo has pointed out that they are mindful of how much time Kenma spends on games when he states that they were forced to take his games away for a while when they discovered he was playing games very early in the morning[2]. When Kenma and Kuroo were still young, Kenma's father would ask why Kuroo would not invite Kenma to join him and other kids in playing soccer but accepted how mindful Kuroo was about not wanting to make Kenma do something he didn't want to if he was not interested.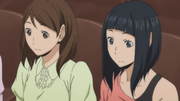 Asuka Hirama
She is one of the girls who had come to cheer Aoba Johsai, especially Oikawa, during the Interhigh Preliminary. Throughout the match, she shows that she isn't too familiar with the rules and plays of volleyball and relies on Takinoue and Shimada to explain things to her and Ujiie. When Karasuno lost the Interhigh match, she claps for Karasuno. She would later appear during Seijoh's rematch against Karasuno.
Manaka Ujiie
She is one of the girls who had come to cheer Aoba Johsai, especially Oikawa, during the InterHigh Preliminary. Just like Hirama, she attended the volleyball match to cheer Aoba Johsai on but can be seen at the end of the match clapping alongside her friends when Karasuno bows to their spectators. She later appears during the Seijoh vs Karasuno rematch.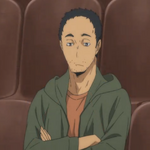 Kiyoshi
Not much is known about this man, other than that he attended the Aoba Johsai vs. Karasuno match at the Spring High Preliminary to support Kyōtani. He was fundamental to the development of Kyōtani's character, as he was the one who had influenced the boy to cooperate with his teammates and face each other head-on if he wanted to perform at his best. Kiyoshi's words prove to be useful as when Kyōtani placed his trust on his team, they were able to spike successfully past their opponents.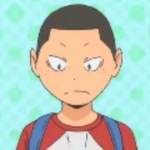 Takeru Oikawa
He is Oikawa's nephew who attends volleyball classes at Lil'Tykes Volleyball. He appears to be an energetic young boy who is not afraid to state the obvious; even if it embarrasses his uncle.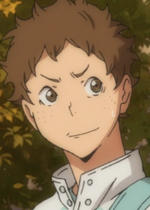 Kaneo Yuda
A third-year wing spiker from Aoba Johsai High. Yuda appears to be of a shorter height compared to his teammates with a thin build. He has short, light brown hair with matching eyebrows, brown eyes, and appears to have freckles. Yuda had attempted to cheer up his teammates after they lost to Karasuno in the semi-finals. Although he was overwhelmed with his own emotions, his state did put some of the third-years in a better mood. Afterwards, he joined the team in getting ramen and then accompanied the third-year players to the gym for a game. Like the others, he would be moved to tears when Oikawa thanked them for being together the last three years.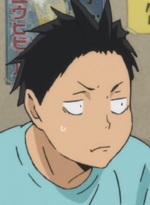 Motomu Sawauchi
Sawauchi is a third-year middle blocker from Aoba Johsai High. Sawauchi is of average height with messy black hair and small, thin eyebrows. While he did not play with the rest of the team, he did join others in supporting them at matches. After Seijoh lost in the semi-finals, Sawauchi had to help keep Yuda back after he became overly emotional in trying to comfort the starting third-years. He accompanied the team to the ramen shop and later joined them in a short game at the gym. When Oikawa thanked the third-years for the time they spent together during high school, Sawauchi began to cry.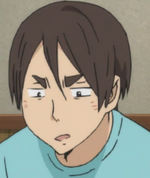 Heisuke Shido
Shido is a third-year wing spiker from Aoba Johsai High. Shido has brown hair that reaches the bottom of his ears. He has small, thick eyebrows and small pupils. Shido was one of a few third-years that was part of the volleyball team but did not take part in any matches. He did join Seijoh supporters in cheering for the team during matches. He and Sawauchi would have to hold Yuda back when he tried to cheer the team up after they lost in the semi-finals. He stays with the team when they go to the ramen shop and then played a game with them at school. Like the team, he would begin crying when Oikawa thanked them for the last several years.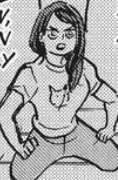 Tōru Oikawa's mother
The unnamed mother of Tōru Oikawa and grandmother of Takeru Oikawa. She is shown to be a young woman who shares a close resemblance with her son. Her only known appearance is during a flashback when Oikawa reveals to Hinata that, during his childhood, he had obtained Jose Blacno's autograph on an unused jockstrap and she had mistakenly washed it with the laundry. She apologized for the mishap and tried to assure her young son that the autograph was still legible but Oikawa was still distraught.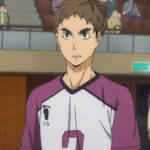 Jin Soekawa
Jin Soekawa (Japanese: 添川 仁

Soekawa Jin

)
Jin is Shiratorizawa's vice-captain and wears the number two jersey. Despite being the vice-captain, he is not a regular.
Both he and Reon Ōhira are listed as vice captains of the Shiratorizawa Volleyball Club.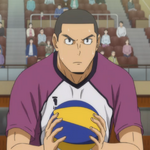 Yunohama
Yunohama is one of Shiratorizawa's pinch servers and wears the number 7 jersey. He is a second-year and played in the match against Karasuno during the Spring High. He was later present during Ushijima's speech to his underclassmen before retiring. His main weapon is the jump float serve.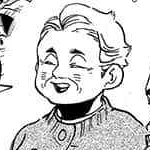 Terano Washijō
The wife of Tanji Washijō. Terano appears to be an easy going and cheerful woman. She first appears when joining her husband during the match between the Adlers and Jackals. Like Tanji, she finds enjoyment in watching Ushijima play. She is seen meeting the former Shiratorizawa ace after the match and is last seen watching the television program where he meets with Tendō in Paris.
Umeda
Umeda is currently a second-year student at Shiratorizawa Academy. He is taller than average with a medium build. He has black hair that he keeps styled upward, long eyebrows, and small pupils. His position on the team is currently unknown. After Shiratorizawa lost in the finals of the Spring Tournament Qualifiers, Ushijima addressed each player with advice of how to improve themselves and the team. Umeda was given the advice to become more consistent with his form and to not get through practices doing what he wished.
Yu Shibata
Shibata is currently a first-year student at Shiratorizawa Academy. He plays on the boy's volleyball team as a wing spiker but is not one of the starting regulars. Shibata has short, messy dark hair with thin eyebrows. He also appears to be slightly taller than average.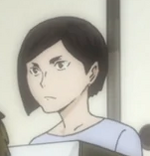 Wakatoshi Ushijima's mother
The mother of Wakatoshi Ushijima and ex-wife of Takashi Utsui. She has a close resemblance to her son. Her hair is dark and kept short with a slanted edge and her bangs neatly combed from her face. She had been married to Utsui when he married into the Ushijima family. When Ushijima was still young, she had wanted to train him to become right-handed since being left-handed was not a trait that normally ran in her family. However, Utsui managed to get her not to go through with this change by giving up his rights in family matters and stating that being left-handed could be Ushijima's greatest blessing. Some time later, she and Utsui divorced.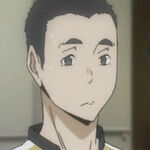 Seiji Okudake
He is a third-year student at Johzenji High and was the captain of the boys' volleyball team before retiring after the InterHigh. Okudake appears to have had a good friendship with Hana Misaki as he is seen giving her advice of how she can help the team become more focused. He also seems to have been close with Yūji Terushima whom he tried to help understand that not all situations will be fun and exciting but left a good impression with his junior as a solid foundation.
Asa Hoshiumi
Mother to Kōrai and Akitomo. Asa shares physical similarities to her younger son, Kōrai. She has the same large eyes and light colored hair. She is on the shorter side which appears to be where Kōrai inherited it from. Asa is a firm but supportive mother to her sons. She appears to have been closer with Kōrai during his childhood. She helped him understand that he shouldn't worry about his height and instead find other ways to be better than those who are taller than him.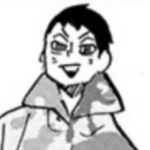 Akitomo Hoshiumi
The older brother of Kōrai Hoshiumi. Akitomo is rather tall with short, dark hair, and large eyes similar to his younger brother and mother. Because of his height, he is seen playing basketball as early as the fourth grade. When they were younger, Akitomo would often make fun of Kōrai for being so short. He appears to be naturally talented in sports as he was seen spiking a volleyball on his first attempt. Although he often picks on Kōrai, the two appear to have a natural sibling relationship.
Korai's father
Father of Kōrai and Akitomo and husband of Asa Hoshiumi. He is a very tall man and has the same dark hair as Akitomo. His only appearances come in flashbacks of Kōrai's childhood when he first became interested in volleyball. While his name is never revealed, Kōrai's father appears to be a friendly and caring person.
Others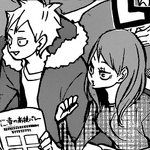 Genta Okuda
Is currently a second year student in high school. Height: 174.2 cm, Weight: 63.3 kg. Okuda is always seen with Takanashi together watching the matches at the Spring Interhigh. He used to be a volleyball player in middle school and is well aware of the basics. He wore the #5 jersey.
High School Statistics
Power

 

2/5
Jumping

 

3/5
Stamina

 

2/5
Game Sense

 

4/5
Technique

 

3/5
Speed

 

2/5
Hiromi Takanashi
Currently, is a second-year high school student. Takanashi was a former volleyball player who retired after middle school. Height: 159.5 cm, Weight: 47.5 kg. Takanashi is always seen together with Okuda watching the matches at the Spring Interhigh. She is revealed to be a fan of the Miya brothers but says she is starting to become a Karasuno fan after watching their match. She also expressed interest in possibly returning to volleyball. She wore the #2 jersey.
High School Statistics
Power

 

3/5
Jumping

 

4/5
Stamina

 

2/5
Game Sense

 

3/5
Technique

 

4/5
Speed

 

3/5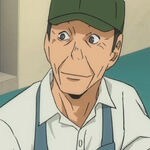 Gengorō Takahashi
Oonoya comes to observe Karasuno's match against Ohgiminami and Kakugawa during the Spring Interhigh preliminary rounds. He is well acquainted with Ikkei Ukai and cheers on Karasuno along with the rest of the supporters. He appears to be quite supportive of the Karasuno team as seen when he defends them when Mikako doubts their chance of winning against Kakugawa.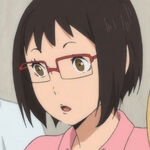 Mikako Hoshino
Mikako is a teacher and the volleyball team advisor for an unstated middle school. She is also a neighbor of Gengorō Takahashi. She shows up to watch the match between Karasuno and Kakugawa and is shown to cheer for the shorter underdog team due to having shorter players on her own team. Later, she is surprised to find Hinata scoring so many points while going against the two-meter Hyakuzawa.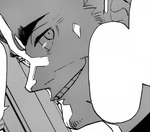 Jose Blanco
Blanco is currently the coach for the Argentina Men's Olympic Volleyball team and had previously coached the Tachibana Red Falcons. Several years earlier he had met Oikawa as a child and became his inspiration for being a setter. During that match Oikawa observed, Blanco was said to be a setter who helped the team ace get back on track through easy to hit sets[3]. He was later able to help Oikawa when he was feeling upset about others being more talented than him even though he could tell that Oikawa just wanted to meet with him again. Blanco would later become Oikawa's coach when he became part of the men's Olympic team.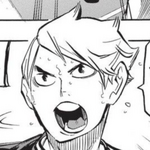 Ryōji Yamazaki
Yamazaki was a third-year at Kiyokawa High School. He was the Boys' Volleyball Club's captain and ace. Yamazaki is a tall young man with short, sandy blond hair and long dark blond eyebrows. He is seen making repeated attacks during the first round match against Nekoma. However, despite having good stamina and a variety of attacks, he would quickly be worn down by Nekoma repeatedly making receives on his attacks.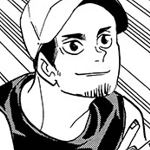 Gabriel
A beach volleyball player in Brazil. Gabriel and Gino make up the famous 'Buy me a Beer' brothers. The two are well known for challenging others in order to win free drinks. Gabriel's debut comes when he and Gino challenge Hinata and Oikawa to a game. Initially, Gabriel believed Oikawa to be a fearsome opponent when he attempted a jump serve until the wind ruined it, leaving Gabriel and Gino to laugh at Oikawa's misery. The two win the match against Oikawa and Hinata, who buy them drinks afterwards. Later, they play the Japanese men again but this time lose and buy them dinner. During the Olympics, Gabriel and Gino are watching the Japan vs Argentina men's volleyball match and spot Hinata and Oikawa during the broadcasting.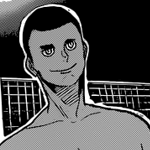 Gino
A native of Brazil and teammate of Gabriel. Gino first debuts when he and Gabriel challenge Hinata and Oikawa to a game. Being well known for challenging tourists to games in order to obtain free drinks, Gino and Gabriel have earned the nicknames 'Buy me a Beer' brothers. Seeing Oikawa attempt a jump serve, Gino first thought that Oikawa would be a challenging player until it became clear that he was not used to the elements of beach volleyball. This results in Gino and Gabriel easily beating the Japanese men and getting their beers afterwards. The two later play against Hinata and Oikawa again but this time they are defeated as the two were able to quickly adapt and improve. During the Olympics, Gino and Gabriel are watching the live broadcasting of the match between Japan and Argentina and spot Hinata and Oikawa.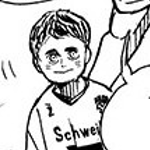 Rubens Romero
The young son of Nicollas Romero. Rubens is revealed to be a big fan of Hinata's and has been stated to want to start playing beach volleyball because of him[4]. Rubens is seen at the end of the match between the Schweiden Adlers and MSBY Black Jackals when he joins his father in approaching Hinata as he vows to not be defeated by him in the future. At this point, Romero would ask Hinata to be in a picture with his son. However, Rubens would suddenly become shy at meeting Hinata.
Junpei Tamayama
A student from Yukigaoka Junior High and member of the tennis club. When Hinata was first starting out with volleyball and was seeking others to help him practice, Junpei was one of the people he turned to in seeking help for practice. With Hinata agreeing to help Junpei with his own practice, the tennis player noticed Hinata's lack of skill but did point out how Hinata has superb reflexes. Upon hearing how Hinata tends to freeze when he realizes the ball is heading his way, Junpei teaches Hinata the Split Step technique; a maneuver in which the player will disconnect their feet from the ground in order to reset their form and use the momentum to go into the next move as well as perfecting their overall reaction time once timing is perfected. Hinata would later utilize this method during the First Year Training Camp.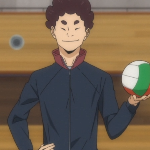 Masahiko Inuhata
A former All-Japan setter. Inuhata first appears when he is shown to have coached a volleyball camp that the Miya twins and Aran attended when they were still in grade school. Although Atsumu wasn't originally thrilled that he was a setter, Inuhata would soon unintentionally inspire him to think setters are the better position when the then young Atsumu hears Inuhata say how he will give the spiker an easy to hit set. Years later, Inuhata would reappear as an announcer during the match between the MSBY Black Jackals and Schweiden Adlers[5].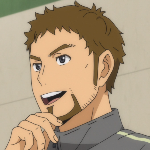 Miyagino University Coach
A university coach that makes occasional appearances through the series although his name is never revealed. He first appears during Karasuno's practice match when Yachi was first brought to the club. During the match, he was impressed with Karasuno's individual and team plays. He would later appear during the First Year Training Camp at Shiratorizawa Academy. He is fairly surprised that Washijō was allowing Hinata to stay during the camp as it is well known that the elderly coach has no interest in short players. He expresses how it seems a waste to have Hinata be a ball boy and admits that he would train the middle blocker to be a wing spiker after seeing tapes of matches he had previously been in and recognizes his potential.
Kikutaro Masumoto
Masumoto currently works for the Japan's Volleyball Association Tournament Operation Department. Masumoto makes a few appearances during the Spring Tournament and the Final Arc. Usually, he is seen in the company of Coach Fuki Hibarida.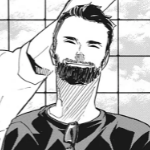 Lucas Santos
Lucas Santos is a veteran beach volleyball player. He stands at 181cm and specializes in defense and attacks. He has dark hair with a matching beard and appears to be easy to get along with. As a seasoned beach volleyball player, he shows great strategy during the Solcard Cup when he and his partner willingly picked the bad side of the court so that they could have the good side by the end of the match. Santos and Carvalho won the match in the end and would also witness when Nice proposed to Heitor but were confused at what was going on.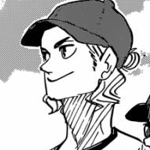 Carlos Carvalho
Carlos is a young man with light colored hair that reaches just under his chin and stands at 192cm. He is partners with Lucas Santos for the Solcard Cup. Thanks to his taller height, Carlos specializes in blocks but is also quite skilled with serves. Carlos and Santos would win the match against Hinata and Heitor. He would also witness when Nice would propose to Heitor and, although he aided in the cheers, he was confused by what was going on.

Coach Takahashi
Hinata's beach volleyball coach in Japan. While coaching Hinata, he helped him understand that playing on the beach would be different because playing on sand is incredibly different from playing on a solid court. Takahashi instructed Hinata that he would need to stomp onto the sand in order to maintain his jumping abilities.
Kane-yan
Kane first appears during a flashback Shirabu has during Shiratorizawa's match against Karasuno. Kane is revealed to have attended Toyokuro Junior High along with Shirabu and Shunki Kawatabi. It was while watching Kitagawa Daiichi play against Shiratorizawa that Kane heard Shirabu declare that he would attend Shiratorizawa Academy in order to play with Ushijima and witnessed how Shirabu became even more dedicated to his studies in order to pass the entrance exam. During the match against Karasuno, Kane is amused but seemingly not surprised that Shirabu kept his promise of attending Shiratorizawa and is now the one setting for Ushijima.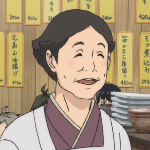 Osuwari restaurant owner
A kind middle-aged woman with short hair. She runs the Osuwari Restaurant that the Karasuno team visits after their loss against Aoba Johsai. The owner appears to know Ukai relatively well as she mentions that he at times visits the restaurant before it officially opens for the day.
References