Nozomu Mami (Japanese: 猯 望, Mami Nozomu) is a third year Middle Blocker of Mujinazaka High.
Appearance
Edit
Mami is a tall young man with brushed up hair. It seems that he likes to touch his hair and fixed it.
Personality
Edit
Statistics
Edit
Original Statistics
Power

 

4/5
Jumping

 

3/5
Stamina

 

4/5
Game Sense

 

2/5
Technique

 

3/5
Speed

 

4/5
He is known as one of Mujinazaka's twin towers, so he's well known for his defense. He is well above average when it comes to spiking and blocking.
Relationships
Edit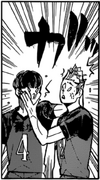 Mami and Unnan are like rivals. They quarrel and prank each other whenever possible. During their match against Fukurodani, they competed with one another to see who could rack up more blocks. 
Current Concern:Is there anything he can do to marry Satomi Ishihara (Japanese Actress)?
Favorite Food:
Mami and Unnan are known as "Mujinazaka's Twin Towers" for their roles as the team's pillars of defense.[1]
Nomenclature

Nozomu (望) - Ambition; Full Moon; Hope; Desire; Aspire To; Expect
Mami (猯) - Wild Boar
"Enjoying oneself is something you can create for yourself. Of course, that depedns on how hard you;ve been building muscles and doing practice! You guys have all made it this far after all." (Chapter 334)
References
Edit
Community content is available under
CC-BY-SA
unless otherwise noted.