Schweiden Adlers (Japanese: シュヴァイデン アドラーズ, Shuvuaiden Adorāzu) is a professional volleyball team in Japan's V.League, in the top tier of Division 1. The team's hometown is located in the city district of Koganei in Kodaira, Tokyo.
As of the 2018 season, the Schweiden Adlers have been reigning champions of the V.League Division 1 for three years straight. 
Background
The team was started in 1953 under the name Imachi Electronic Volleyball Club. The company changed its name in 1982, and the team was renamed to "Schweiden Adlers." The Adlers have won a total of 11 championships and were runner-up 6 times in the Japanese League, V.Premier League, and the V.League. In the Kurowashiki Tournaments, Schweiden Adlers won 14 times and placed second 7 times. They also achieved 4th place in the World Club Championship in 2012.[1]
"Schweiden" is a combination of the German word, Schweiß, and English "golden" while Adlers translates to "Eagles". It's a Japanese electronic company whose motto is "The sweat shed is as valuable as gold." Its name was chosen to represent the eagle, the king of birds. As such, the team aims to be a "gathering of champions" that soars to the top both collectively and individually.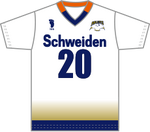 Uniform
The uniform consists of a white jersey and matching white shorts. The jersey has a gold gradient at the bottom and has navy blue highlights on the front of the collar and orange highlights on the back.
Members
---
2018-2019 Roster:
---
2021 Roster:
V. League Division 1 (2018-19)
Trivia
Schweiden Adlers is a reference to the real life V.League team, Oita Miyoshi Weisse Adler. In German, "Weisse Adler" means "White Eagles".
Most of the known players have some relationship to birds:

Ushijima, Kageyama and Hoshiumi come from schools represented by birds (eagles/swans, crows and seagulls respectively).
Hirugami's first name, Fukurō, is a homonym of the Japanese word for owl.
The "Sokol" in "Sokolov" means falcon in various Slavic languages.

While Schweiden Adlers is the reigning champion of the V.League Division 1, its real-life counterpart is one of the weaker Division 1 teams and would rank among the bottom.
Tatsuto Sokolov may be inspired by Tsvetan Sokolov, a Bulgarian professional volleyball player).
Gallery
References