Takeru Nakashima (Japanese: 中島 猛, Nakashima Takeru) is a third-year student at Wakutani Minami High. He is the captain of the boys' volleyball team and plays as an outside hitter.
By November 2018, he is currently playing as a libero for the V. League Division 3 team Kiniro Sports Jumpers and working at a sporting goods store[1].
Appearance
He has a light brown buzz cut and a slightly large build. His eyebrows are short but thick, and he has dark brown eyes.
Post-timeskip, he has grown his hair out a bit.
Personality
As the captain, he is the one that encourages and comforts his teammates during games. Like Hinata, he is very passionate about volleyball and was inspired to play by the Little Giant. Nakashima is also shown to be quite the good sport, acknowledging his opponents and their strengths and even complimenting Ennoshita when he had to take over for Daichi.
As an older brother, he often takes care of and plays with his siblings. Whenever his parents are too intimate, he has the responsibility of covering up his siblings' eyes.
Background
Nakashima has described his family to being a Juassic Park; his older brother is care free, his younger siblings are highly energetic, and his parents constantly act too lovey-dovey in front of their children. Despite their differences, the Nakashima family is incredibly supportive of one another; as seen when the entire family supports Nakashima during the Spring High Tournament.
Similar to Hinata, Nakashima had watched the broadcast showing the Little Giant and Karasuno playing at the Spring Tournament. At seeing how Udai was able to play despite his height, Nakashima became inspired to play like him and would hope to one day surpass Udai to become the next Little Giant[2].
He and his brother, Isamu, played on the volleyball team together and were known to be an incredible duo.
Plot
Interhigh
Throughout the Interhigh Arc, he and his team mostly have cameo appearances.
Spring High Preliminary Arc
Before Wakutani Minami's game against Karasuno begins, Nakashima cheers as he sees his family support him. Unlike most people would be, he seems proud to have such a supportive family and isn't embarrassed by their loud presence. When watching Wakutani Minami, Karasuno remembers what their coach, Ukai, had told them about Nakashima's reputation. The next day, Nakashima and Daichi shake hands and wish each a good game although Nakashima shows clear interest in winning the match. Despite failing to dig Kageyama and Hinatas quick set in the first rally, he becomes excited at the prospect of facing such opponents since he finds pleasure facing a team as unpredictable as them.
Because he knows of Karasuno's reputation, he and his team do not become surprised when facing the quick set and Nakashima assures Wakutani Minami that they would win the following rally. After this, Karasuno's own captain manages to press the right buttons to motivate his team to win, which makes Nakashima flinch. In the next rally, Nakashima is able to get a good bump on a serve deemed perfect by Kageyama. In the third rally, Nakashima still proves to be a fearsome player when aiming at Hinata's hand to perform a block-out. After this, Ukai comments on how Nakashima's playing style comes closest to the Little Giant's.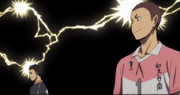 After performing another block-out later on, Takeda wonders if Nakashima can see well while in the air and Ukai speculates that he works on adjusting angles rather than aiming at precise places. After Wakutani Minami's libero fails to save Hinata's shot, half to taunt their opponents, Nakashima makes his voice loud enough for Karasuno to hear when telling Akiu that he'll be able to receive any ball coming his way easily in the following rallies. After Daichi calls him out, a small rivalry starts between them. On the next rally, Daichi becomes smug about Nakashima and Kawatabi being unable to block Asahi.
When sensing Kawatabi starting to get uneasy, Nakashima makes him aware of a girl watching them, which motivates Kawatabi to spike the ball every time. After this, some snippets of Nakashima's daily life and how he handles his responsibilities are shown. After comparing his captaincy to a petting zoo and his home to Jurassic Park, Nakashima tells his teammates to get the next point.
Following Daichi being subbed out to get medical aid, Nakashima admits that he feels sorry for Karasuno having lost a player but also sees this as an opportunity for Wakutani to come out victorious. Following this, Nakashima scores a service ace off Ennoshita. Despite this, Nakashima admires Ennoshita's strong will when he is determined to continue fighting despite having failed his previous save. In the next rally, Ennoshita's promise is fulfilled and he successfully passes Nakashima's serve.
Nakashima would win the match's second set once he spikes past Karasuno's defense, which earns him praise from the spectators. After this, Hinata stares at Nakashima when learning that the Little Giant's play style and Nakashima's were very similar, however, the rookie's thoughts are interrupted when Kageyama tells him to stop even hoping to be nearly as good as Nakashima.
As Nakashima impressively spikes past Hinata, his family cheers for him, which makes him confident about being the one who will hold the title of being the new Little Giant. Despite this, Hinata manages to outdo Nakashima when he saves using a combo of a foot receive and a dive to stop his block-out technique. Seeing this, Nakashima is impressed at the rookie's fast reflexes and speed. Despite having performed good block-outs throughout the match, Nakashima is also able to pull off a successful regular spike to surprise Karasuno sometime later.
Seeing Hinata perform a rebound, Nakashima admits he'd underestimated the younger player since he initially thought that his success only came from his partner setter. Nakashima also continues to confess that until this moment, he had thought of Karasuno as a mediocre team after the Little Giant graduated. After thinking this, Nakashima is motivated to surpass his idol but is then stopped by Tsukishima, which makes his team panic. Despite their alarm, Nakashima does not get discouraged and continues to look up.
Shortly after, Nakashima gets frustrated at his height when Kageyama, a much taller player, comes out victorious in a joust against him. However, upon Kawatabi saving the ball for him, Nakashima tells himself that Hinata would not outmatch him either skill or in having more trustworthy teammates. When Matsushima begins to panic and fails his serve, Nakashima successfully attempts to calm him down.
Later on, Nakashima scores a tip, which makes Saeko angrily speculates that he had waited for Nishinoya. Nakashima would once more demonstrate good captaincy when sensing Kawatabi beginning to get uneasy and refers back to the imaginary girl he created to motivate him. Despite Nakashima's block-outs having been successful most of the previous times, his last one is saved by Ennoshita.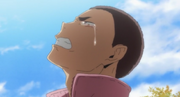 After Wakutani Minami loses, Nakashima does not immediately break into tears but is careful to try to manage his team's feelings beforehand. However, when being alone with Kawatabi, Nakashima breaks into tears as he urges to continue to play as he was able to see the top clearly despite his height in that last rally.
Nationals
During Karasuno's game against Kamomedai, a flashback of Hinata and Tsukishima is referred to when talking about how to counter some of his techniques, which would soon later help them surpass Hoshiumi's block-outs. During the third set, Nakashima is seen watching the game is shocked when he sees that Hinata is sick.
Final Arc
Nakashima has now become a libero for the Kiniro Sport Jumpers and also works at a sporting goods store[1]. Along with Kawatabi, he watches the match between the MSBY Black Jackals and Schweiden Adlers and upon seeing Hinata's impressive serve, Kawatabi comments that they played monsters back in high school. During the third set, Kawatabi says that every strong-looking person will have to be targeted at least once in a sport like volleyball. Nakashima agrees but says that for short people like him, tooling the blocks is one of their best weapons against height[3]. After seeing Hoshiumi conquer Hinata's block, Nakashima is shocked and realizes that Hoshiumi was going for a block out but he knew that the blockers were ready for this so he immediately changed to a spike.
Statistics
High School Statistics
Power

 

4/5
Jumping

 

4/5
Stamina

 

5/5
Game Sense

 

3/5
Technique

 

4/5
Speed

 

4/5
According to Ukai, Nakashima can change the angle at which he hits the spike. He hits the blocker's hand at an angle that will make the ball ricochet off, the type of spikers that annoy Tsukishima. Just like Hinata, Nakashima admired the Little Giant when he was young and as such his play resembles the Little Giant. Ukai admits that Nakashima's style is the closest to the Little Giant's in the prefecture at the time Wakutani plays against Karasuno. He also has a captaincy style similar to Daichi, even to the way they calm their teammates down.
Like the rest of his team, he is quite proficient at receiving. He and his team's receiving capabilities are said to be on par with that of Nekoma High. He also has a jump serve.
Jumping Reach: 324 cm
Skills
Post-Timeskip Skills Parameter
Serve

 

7/10
Serve Reception

 

8/10
Dig

 

8/10
Setting

 

7/10
Spike

 

8/10
Block

 

6/10
Relationships
In the match between their teams, Nakashima appears to have formed a sort of rivalry with Hinata. Nakashima appeared to be somewhat jealous that Hinata was wearing Udai's former number as he, like Hinata, idolized the former Karasuno ace. During their match, Nakashima saw how tricky Hinata was to handle as they competed to be the champion of mid-air combat.
Nakashima is shown to know Kawatabi fairly well and knows how to best motivate him during the match against Karasuno. The two appear to be close friends and appear to have stayed close as they attended the match between the Schweiden Adlers and MSBY Black Jackal together.
Makoto and Nakashima often watch volleyball matches on TV together. As kids, Nakashima cared for Makoto and played with her, though her incessant energy usually wore him out.
Quotes
Trivia
References