Tatsumi Ōsado (Japanese: 大佐渡 巽, Ōsado Tatsumi) is the head coach of Tsubakihara Academy boys' volleyball club.
Appereance
Ōsado is a middle-aged man with short dark brown hair and appears to be of a heavier build. He is often seen with a laid-back expression.
Personality
He is noted to be a generally closed person, only showing emotion in rare occasions. Despite this, he can easily motivate his team and lessen their stress.
Background
Not much is known about Ōsado's background. He led Tsubakihara Academy to two consecutive appearances in the Spring Tournament so it can be assumed he is a great coach.
Plot
Tokyo National Arc
After Karasuno and Tsubakihara bow, wishing each other a good game, Ōsado notices how nervous Maruyama is and asks him about it[1]. After Maruyama answers, Ōsado tells the whole team to focus on their serves to disrupt the other side's defense, but not to take their eyes off Hinata since he can come from the direction they least expect. After observing his team reflecting on their previous year at nationals, where they had gotten crushed in the first round, and not wanting that to be repeated, Ōsado acknowledges that every team at nationals is a powerhouse that beat other powerhouses to earn their spot there. Despite this, the first round will see many of these powerhouses fall before they even realize what happened.
As Tsubakihara's match against Karasuno progresses, Tsubakihara seems to be gaining a clear lead, but after Hinata uses his quick attack, Karasuno catches up. Ōsado tells his team that they aren't at nationals just to stop Hinata, but are actually there to win the game. He warns them that the moment that they get scared of Hinata's quick, they've fallen in Karasuno's trap and that doing that just puts further pressure on themselves.
As the match progresses, Tsubakihara requests their second time-out for the first set. While the team is interacting, Ōsado requests to talk to Himekawa. Kinoshita is sent in as Karasuno's pinch server and not long after Tsubakihara does the same, benching Iwamuro for Himekawa. Ōsado acknowledges that sending in Himekawa could be risky as they have never used him in a tournament, but he still thinks that it's worth a try[2].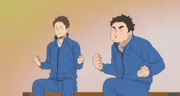 When Himekawa accidentally hits Teradomari's head, he earns Karasuno's final point to win the set. Despite this, he is sent back in to serve shortly after. Ōsado tells Himekawa to think about pinch-serving as a low-risk high-reward opportunity. Either way, Ōsado knows that his team won't make fun of Himekawa for messing up and motivates him to succeed in his serve. Additionally, Ōsado knows that if he messes up, Himekawa will be the one bothered the most by that, not the rest of the team. As Himekawa was able to make his next serves succeed in gaining points, Ōsado is seen sharing in the celebration.
After Tsubakihara's loss, Echigo shakes Daichi's hand, as they are the two opposing teams' captains, and Maruyama, Echigo and Teradomari break into tears. Right after, Ōsado tries to comfort his team by offering them lunch.
Relationships
As Tsubakihara's coach, Ōsado has great knowledge about his players and knows their personalities, specialties and habits. He is shown to easily be able to motivate them and lessen their stress with a few words.
Trivia
Nomenclature

Tatsumi (巽) - Southeast
Ōsado (大佐渡) - Big/Great, Help/Assist, Transfer/Deliver

Ōsado seems to have been named after Ōsado Mountains, a mountainous region on Sado Island, Niigata Prefecture.
Quotes
"Everyone here has taken down one beast or another to get to this point. And in much the same way, beasts who have taken down other beasts could be themselves vanquished in the blink of an eye in the first match. Those who get swallowed up by their opponents...by the courts...disappear." (To himself, Volume 26 Chapter 233)
"Even if you made it here last year. Even if your name is listed across all the magazines...There's always the possibility that you'll be eliminated in the first round. This is what it means to be at nationals. Anyone and everyone has the opportunity to leave their mark here." (To himself, Volume 27 Chapter 240)
References