An official timeline of Haikyū!! was released in the 6-7th issue of Weekly Shōnen Jump's 2020 series. This timeline provides a general outline of the events that took place from Volume 1 Chapter 1 to Volume 43 Chapter 379. It confirms that majority of the series took place during 2012 - 2013 and Hinata being born in 1996.
Additional details of the exact date certain events took place are gathered from the manga.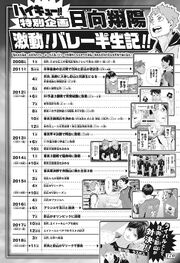 Timeline
2008
January: Hinata (11 years old) sees the Little Giant play in the Spring Interhigh on TV.
2011
May ~ : Hinata (14 years old) plays Kageyama for the first time during his last official volleyball match in middle school.
2012
April: Hinata enrolls in Karasuno and finds Kageyama there.
May: Practice match with Nekoma High
June: Karasuno loses to Aoba Johsai in the third round of the Interhigh Preliminaries.

Hinata turns 16 years old

July: Tokyo training camp
August: Spring Interhigh National Tournament Miyagi Prefecture Qualifying Rounds.
October 25-27: Miyagi Prefecture Spring Interhigh Qualifier
December: All-Japan Youth Training Camp and Miyagi Prefecture First Years Training Camp
2013
January:
June: Karasuno loses to Date Tech High in the final rounds of the Miyagi Prefecture Interhigh Qualifer.
October: Karasuno earns a ticket to the Spring Interhigh
2014
January: Karasuno loses to Inarizaki High in the third round of the Spring Interhigh
October: Karasuno qualifies for the next Spring Interhigh
2015
January: Karasuno loses to Itachiyama Institute in the semi-finals and places third nationally.
March: Hinata and the others in the same year graduate
April: Kageyama enters the V.League
October: Kageyama's first V.League season
2016
April: Hinata goes to Brazil
June: Hinata encounters Oikawa in Brazil

Hinata turns 20 years old

July: Kageyama makes his debut at the Olympics
2017
October ~: Hinata teams up with Heitor as a beach volleyball duo
December ~: Hinata and Heitor play their last match together.
2018
March: Hinata returns to Japan
November 17th[2]: Hinata faces off against Kageyama in the V.League
2019
Spring ~: Hinata, Kageyama, Kunimi, and Kindaichi meet up in Sendai to play beach volleyball.[3]
2021
July: 2020 Tokyo Olympics Women's Volleyball Day 4
August: 2020 Tokyo Olympics Men's Volleyball Day 12
2022
August 14: All Star Special Match
Autumn ~: FIVB Volleyball Men's World Championships: Finals

Ali Roma vs Asas São Paulo
Notes
In the Japanese version, the date on Hirugami's phone indicates that the Black Jackals and Schweiden Adlers game took place on Saturday, November 17th, 2018. The English version mistakenly changes the date to November 11th. This is presumably an error since November 11th, 2018 was a Sunday.
The Spring 2019 beach volleyball game was revealed in a special chapter created for the Haikyū!! Exhibition, entitled Promises 2.
References