Wakutani South High School (Japanese: 和久谷南高校, Wakutani Minami Kōkō) is a high school in the Miyagi Prefecture.
Not much is known about the school uniform.
During official matches, the boys' volleyball club's uniform consists of a pinkish red and white jersey and same colored shorts with white details. The top part of the jersey is also pink-red while the bottom is in white. The libero has a contrasting jersey with the top part of it in white while the bottom is in pink. He also wears white pants with pink details. The numbers and letters of their uniforms are grey.
Volleyball Club
Edit
The Boys' Volleyball Club has superior defense and coordination. Wakutani South's solid receiving and connection help it bring out its A-game and counter effortlessly. Keishin Ukai has compared its receiving skills to Nekoma High's. Wakutani South had been one of the top four powerhouses in the Miyagi Prefecture until its recent loss to Karasuno High.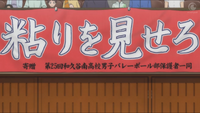 The team captain Takeru Nakashima idolizes the Small Giant, who had played in the strongest team Karasuno'd ever had, and developed his own fighting style based off of the ace's. Takeru often hits the ball to his opponents' fingers to make it ricochet off, either giving his team a chance to change its attack or causing the ball to go out so his team can get a point. This technique usually gives opposing teams a lot of trouble, and it's been said that since Takeru had become a third year, Wakutani South's strength has increased exponentially, making the current team one of the most powerful in the school's history.
During the Spring High, Wakutani South won easily in its first match-up and sealed fates with Karasuno. However, after a neck-to-neck battle, Karasuno won and Wakutani South was eliminated in the quarterfinals, only making the Top 8.
Former Players
Interhigh-Preliminaries
Edit
For Interhigh's Miyagi Preliminaries, Wakutani South was registered as Team 29, Block E. Their venue was Niiyama High Gymnasium, along with Block F. The exact number of matches they played is unknown.
Wakutani South High School vs. Niiyama Tech High School
Spring High-Miyagi Prefecture Representative Playoffs
Edit
It is not known if Wakutani South was exempt from the first preliminary or not.
For the representative playoffs, Wakutani South was registered as team 12. They played at the Sendai City Gymnasium over a span of two days (one game on the first day, one on the second) before losing to Karasuno in the second round. Overall, they placed within the top 8.
Wakutani South High School vs. Ōgishō High School (2:0 / 25-22, 25-19)
Wakutani South High School vs. Karasuno High School (1:2 / 20-25, 25-20, 23-25)
The school's nickname is Wakunan.
"和久谷" means Kazuhisa Valley in Japanese
Community content is available under
CC-BY-SA
unless otherwise noted.