"Yūki Ishikawa Collaboration" is a collaboration originally unveiled alongside a Yūki Ishikawa special on a TV program. It later published in Volume 41 as a special chapter.
Overview
Edit
Hinata, Kageyama, and Nishinoya are representatives of the Japan National Men's Volleyball Team. They play alongside real-life volleyball star Yūki Ishikawa in an Olympic match.
A match is taking place at the
Ariake Arena
. Nishinoya cleanly receives his opponent's spike. Hinata immediately moves back and starts a run up for an attack. He jumps high into the air while Kageyama prepares to toss the ball. Kageyama takes advantage of the blockers being distracted by Hinata to send a back row toss to Ishikawa. Ishikawa emerges from behind Hinata and slams home the ball.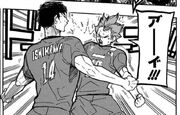 Afterwards, Hinata and Ishikawa celebrates by chest bumping, but the latter exerts too much strength and accidentally pushes Hinata to the ground.
Appearances
Edit
Chapter Notes
Edit
Character revelations
Edit
Hinata's jersey shows that Shimada Mart is one of the Olympic sponsors.
Hinata, Kageyama, and Nishinoya keeps their Karasuno jersey numbers.
The collaboration match takes place in Ariake Arena, which will serve as the venue for volleyball competitions in the 2020 Summer Olympics.
Instead of having the Japanese flag on the left chest area of their jerseys, the three Karasuno characters have a crow symbol.
Community content is available under
CC-BY-SA
unless otherwise noted.