Yūshō Sagae (Japanese: 寒河江 勇将, Sagae Yūshō) is a first-year at Shiratorizawa Academy. He plays as a wing spiker on the volleyball team.
Appearance
Sagae is quite tall for a first-year high school student. He has brown hair that he keeps spiked upwards, and hooded eyes. In the manga, his hair is shorter in length than in the anime. His eyebrows are also noticeably longer in the manga than in the anime.
Personality
Sagae appears to be hard working but still friendly. He and Akakura are quickly able to befriend Hinata during the First Year Training Camp.
Background
Plot
Tokyo Nationals Arc
First Year Training Camp
Along with Kai Akakura, Sagae acts as one of the camps ball boys. He and Akakura meet with Hinata after he was allowed to stay at the camp on the condition of being another ball boy. While helping keep things in order, Sagae observes the players attending the camp, showing some envy at middle school third-year Nagamatsu for already being offered to attend Shiratorizawa Academy the following year and also admiring Hyakuzawa's impressive height. During the early practices, Sagae notices how Washijō seems to be more attentive toward Hinata, even if it is to yell at him. Despite Washijō's treatment of Hinata, Sagae notices how the Karasuno middle blocker appears to be improving his abilities during the camp.
Karasuno vs Inarizaki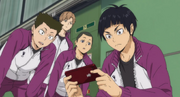 Along with Goshiki, Shirabu and Akakura, Sagae watches Karasuno play against Inarizaki on the second day of the tournament. Like everyone else, Sagae expresses great surprise at seeing Hinata receive a spike from Aran.
Statistics
High School Statistics
Power

 

3/5
Jumping

 

3/5
Stamina

 

2/5
Game Sense

 

2/5
Technique

 

3/5
Speed

 

3/5
Relationships
The two first-years appear to be close friends. They can often been seen close by to one another.
Sagae befriends Hinata during the Rookie Camp. He occasionally praised his work in camp and also appeared worried when Hinata accidently got hit in the groin by Kindaichi's spike.
Quotes
Trivia
References